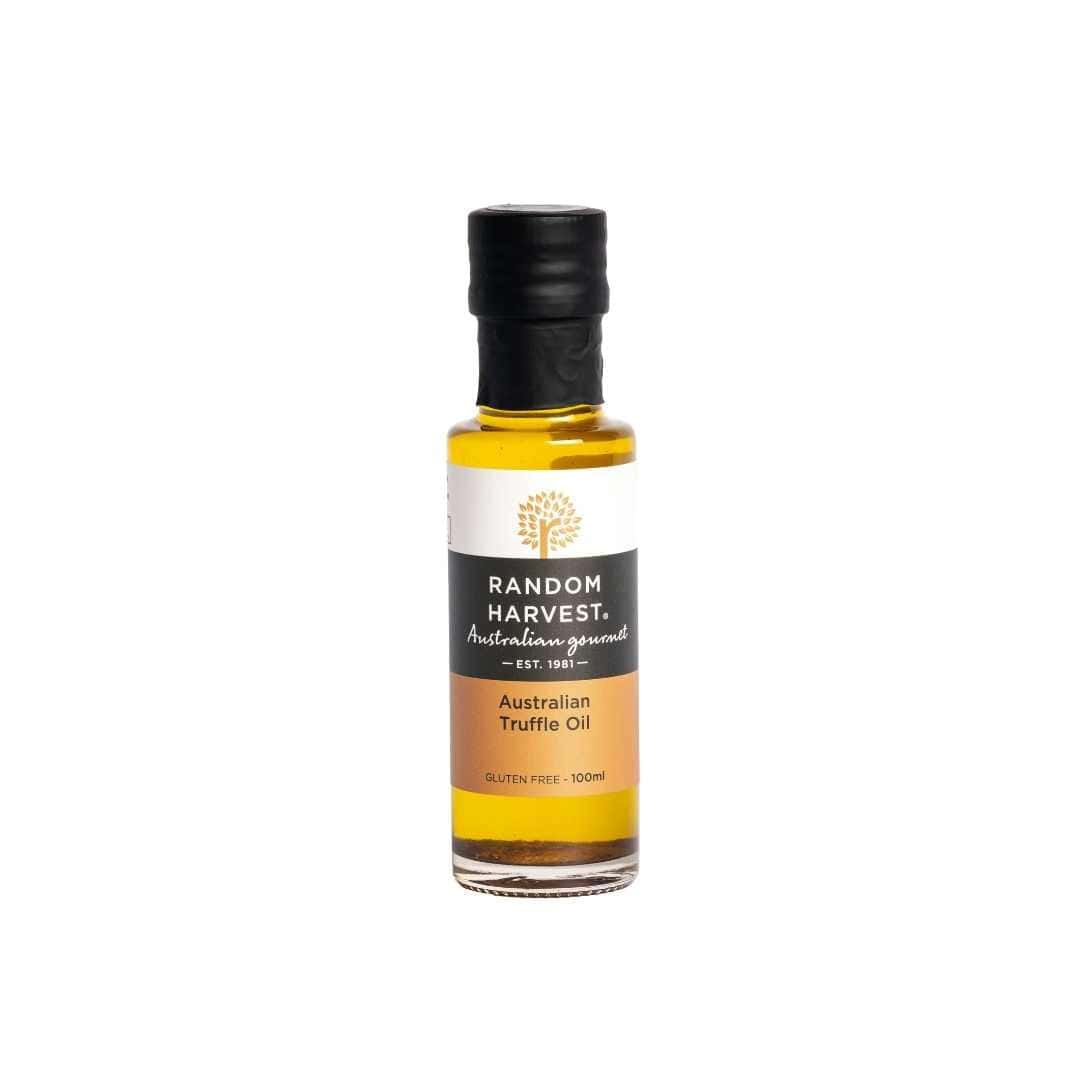 Australian Truffle Oil 100ml
Description
Ingredients
Directions
More...
Truffle Oil that's an international best-seller. Australia's finest extra virgin olive oil infused with expertly selected Australian black truffle. Our best-selling Australian Truffle Oil is a class leader in flavour and quality.
A truly exquisite blend of the earth's finest flavours, real Australian grown Truffles balanced with the NSW Hunter Valley's finest olive oil.

Our gourmet truffle oil is renowned as Australia's best truffle oil thanks to our choice of the finest Australian ingredients. Real truffles from Australia's most passionate truffle growers ensure that our genuine truffle oil infusions are guaranteed to feature a depth of flavour that imitation oils only dream of.

With earthy flavours of black truffle, beautifully balanced with Australian Extra Virgin Olive Oil finished with truffle pieces that are visible dancing through the golden olive oil.

100% Gluten Free
100% Real Australian Truffle
100% Australian Made
100% Australian Owned
Australia's Best Truffle Oil?
Here at Random Harvest, we aim to be Australia's best and creating Australia's best truffle oil was no exception.
When creating our truffle oil, we knew finding Australia's best gourmet ingredients was important - after all, you can't create the perfect truffle oil without pairing the perfect base oil and the perfect truffles.
We have long partnerships with some of Australia's finest olive oil producers, and so, we knew that using Australian made and grown extra virgin olive oil was the perfect choice. Here at Random Harvest, our olive oil comes from the NSW Hunter Valley region, and is second to none in the country for flavour, colour and creaminess.
Similarly, when it comes to selecting the perfect truffle, we know that Australia's truffle industry is now considered to be one of the world's best, so supporting Australian truffle growers was a no brainer. 
Our truffle oil features genuine Australian grown truffle that's visible in every bottle of Random Harvest Australian Truffle Oil. You'll appreciate the depth of flavour and aroma of our truffle oil to enhance even the most basic of everyday meals.
Truffle Oil:
Extra Virgin Olive Oil (99%)
Truffle Aroma
Dried Truffle
GLUTEN FREE & VEGAN FRIENDLY
Truffle oil is the perfect addition to your meals to add depth of flavour with ease.

Truffle Oil Use:
After cooking or during the final stages of cooking is the best time to use truffle oil. Our Australian made black truffle oil offers a rich, earthy flavour with the combination of real Australian truffles and quality Australian Extra Virgin Olive Oil from the NSW Hunter Valley. Use this gourmet oil to enhance your favourite dishes.

Drizzle truffle oil over scrambled eggs, risotto, steak or roasted vegetables.

Stir through fresh pasta or mashed potato.

Let us know your favourite truffle oil recipes.


Truffle oil is a luxuriously rich oil that is coveted for its exquisite earthy truffle flavour and the complex aroma of black truffle.

Random Harvest Truffle Oil is a black truffle olive oil featuring the ultimate blend of quality Australian ingredients to create a world class Truffle Oil that is featured in premium retail stores including the iconic Harrods of London.

Our Truffle Oil is expertly crafted using the finest Australian grown olives, which have been expertly crafted into a creamy extra virgin olive oil. This is 100% Australian Extra Virgin Olive Oil from the NSW Hunter Valley, that is second to none for depth of flavour.

To create the perfect truffle oil, we carefully balanced the richness of the extra virgin olive oil with just the right infusion of truffles. By selecting Australia's best truffles for our oil, we ensure that our truffle oil is a leader in real truffle flavour.

We work closely with producers to ensure the finest quality oil and the smoothest flavours, making our truffle oil one of Australia's best truffle oils.

Genuine truffle oil is a game changer for gourmet cooking, and here at Random Harvest, you can rest assured that our truffle oil is made with 100% Authentic Australian black truffle, 100% Authentic Australian olive oil, with real truffle pieces that you can see and taste.

Buy truffle oil online and keep some in your pantry to add gourmet flavours to pasta, vegetables and more.
100% Australian Made & Owned
TRUFFLE OIL INFORMATION
Is Random Harvest Truffle Oil Australian Made?
Truffle oil is one of our best-selling Australian made products, and is 100% Australian made.
Our truffle oil features the finest Australian grown and made extra virgin olive oil from the NSW Hunter Valley, infused with premium Australian grown black truffles to create a beautiful product that is proudly Australian made and owned.
Is Your Truffle Oil Made From Olive Oil?
Our premium truffle oil is expertly crafted from 100% Australian made extra virgin olive oil.
Our extra virgin olive oil is sourced from the NSW Hunter Valley to ensure the finest in quality, flavour and texture.
Featuring only Australian grown black truffle, we've created the perfect earthy infusion for your gourmet enjoyment.
Shipping
Fast shipping
We proudly offer same-day dispatch to get your order out the door and on its way as quickly as possible.
We offer Australia-wide delivery with free delivery for all orders over $99. Further information is available on our shipping page.
Order tracking
Tracking your order is as easy as can be. As we process your order we will update your shipping information.
You'll be updated as your order progresses and be able to track your order from our warehouse to your door.
Get in touch
If you have any issues or questions about any of our products, or you're needing a customised gift hamper created for your business or special event, then please don't hesitate to contact us via email, our contact form or on (02) 95 242 111