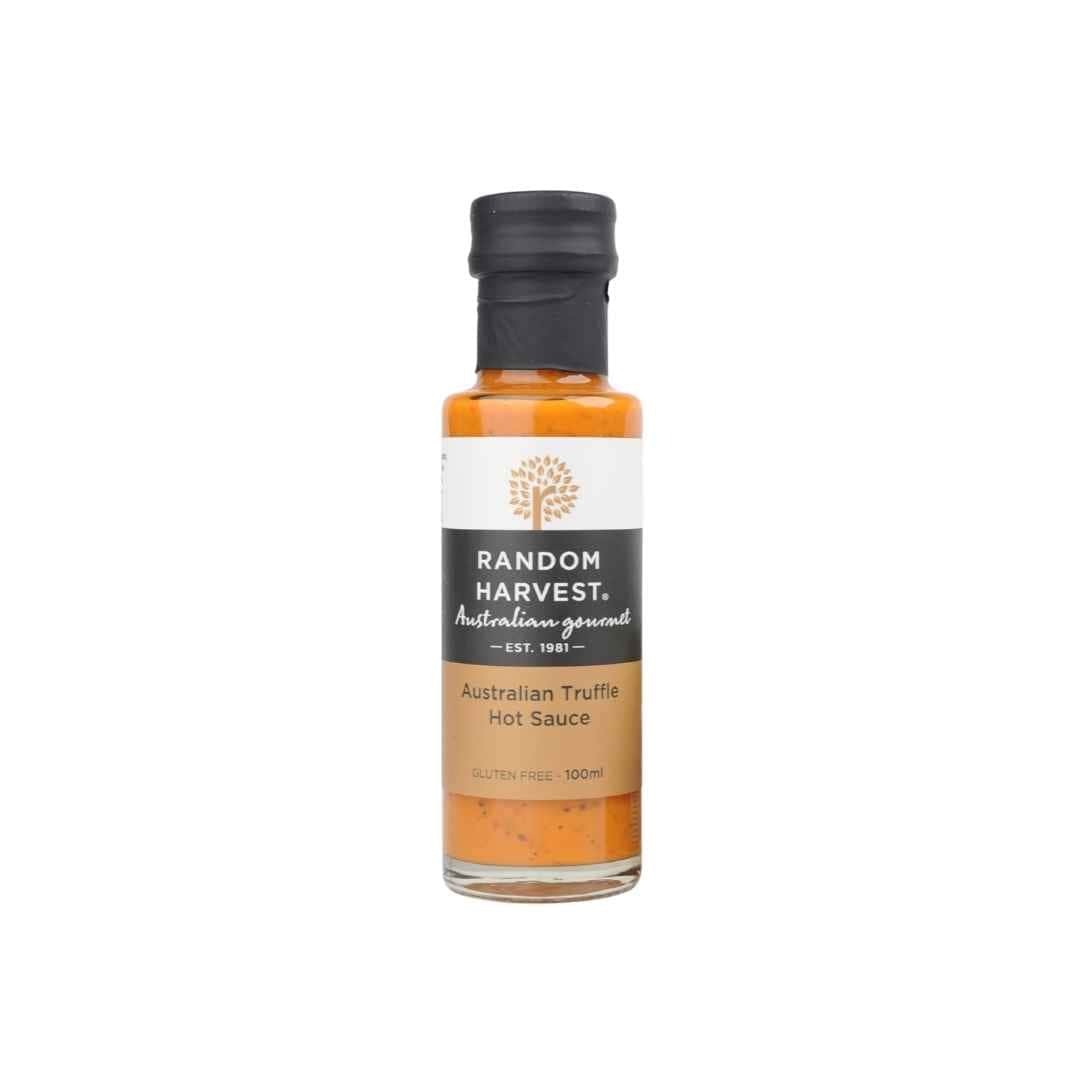 Australian Truffle Hot Sauce
Description
Directions
More...
Truffle Hot Sauce is here! An exciting new addition to the Random Harvest Truffle Range, introducing our Australian Truffle Hot Sauce.
We've spent the past 2 years perfecting our truffle hot sauce recipe, and we couldn't be more proud of the results. The feedback has been amazing and we're well on our way to being Australia's best-selling truffle hot sauce.
100% Australian made with real Australian truffles, this versatile hot sauce is guaranteed to be a favourite.
Real Australian truffle you can see and taste. You don't have to take our word for it, the truffle flakes are beautifully blended throughout the entire hot sauce bottle to ensure there's truffle in every pour.
With a spicy kick that hot sauce lovers will appreciate, we've spent the past 2 years perfecting the flavour to offer plenty of heat while allowing the truffle flavour to shine through.
The Best Truffle Hot Sauce?
What makes Random Harvest Truffle Hot Sauce Different? Unlike some imported truffle hot sauce products, each and every bottle of Truffle Hot Sauce by Random Harvest features real truffle pieces. Not only is it real truffle flakes that you're seeing and tasting, it's 100% Australian grown truffle.
As an Australian made and owned brand, we do everything possible to ensure that we're supporting Australian growers, producers and manufacturers, and creating the best truffle hot sauce Australia has seen is no different. We worked closely with the entire production team to find the best ingredients, the best recipe developers and create the best truffle hot sauce in the country.
Drizzle over scrambled eggs, steak or use as a chicken marinade.

The perfect partner for your favourite burger.
Truffle hot sauce that's a perfect balance between zingy chillies and beautifully earthy and aromatic Australian truffle.

The perfect hot sauce for lovers of complex flavour and absolutely delicious chilli.
We've spent the last couple of years refining this recipe and working with Australia's finest producers to create a truffle hot sauce recipe that's Australia's best.

When choosing a truffle hot sauce one of the most important things to consider is the use of real truffle.

Did you know that some truffle hot sauce brands don't even contain real truffle? You don't have to worry here at Random Harvest, our truffle hot sauce contains real Australian truffle. We source our black truffles directly from Australian truffle growers so we can ensure the finest of quality in every batch.
100% Australian Made & Owned
TRUFFLE HOT SAUCE INFORMATION
Is Random Harvest Truffle Hot Sauce Australian Made?
We've spent the past 2 years creating the perfect hot sauce, and we've proud to say that our Truffle Hot Sauce is 100% Australian made and owned.
Our truffle hot sauce is as much about the perfection of our chilli hot sauce as it is about the earthy truffle infusion that enhances the depth of flavour.
A premium hot sauce that celebrates the finest of Australian black truffle to create a versatile condiment everyone will want more of.
Is There Real Truffle In Random Harvest Hot Sauce?
Our premium Hot Sauce features 100% Australian black truffle.
We've worked closely with Australia's finest artisan producers to create a hot sauce that is fast becoming a worldwide favourite.
As an Australian best seller, our Truffle Hot Sauce features premium Australian grown truffle and is as delicious on a burger as it is as a dipping sauce.
Our Truffle Hot Sauce features 100% Australian grown black truffle.
TRUFFLE HOT SAUCE REVIEWS:
Shipping
Fast shipping
We proudly offer same-day dispatch to get your order out the door and on its way as quickly as possible.
We offer Australia-wide delivery with free delivery for all orders over $99. Further information is available on our shipping page.
Order tracking
Tracking your order is as easy as can be. As we process your order we will update your shipping information.
You'll be updated as your order progresses and be able to track your order from our warehouse to your door.
Get in touch
If you have any issues or questions about any of our products, or you're needing a customised gift hamper created for your business or special event, then please don't hesitate to contact us via email, our contact form or on (02) 95 242 111