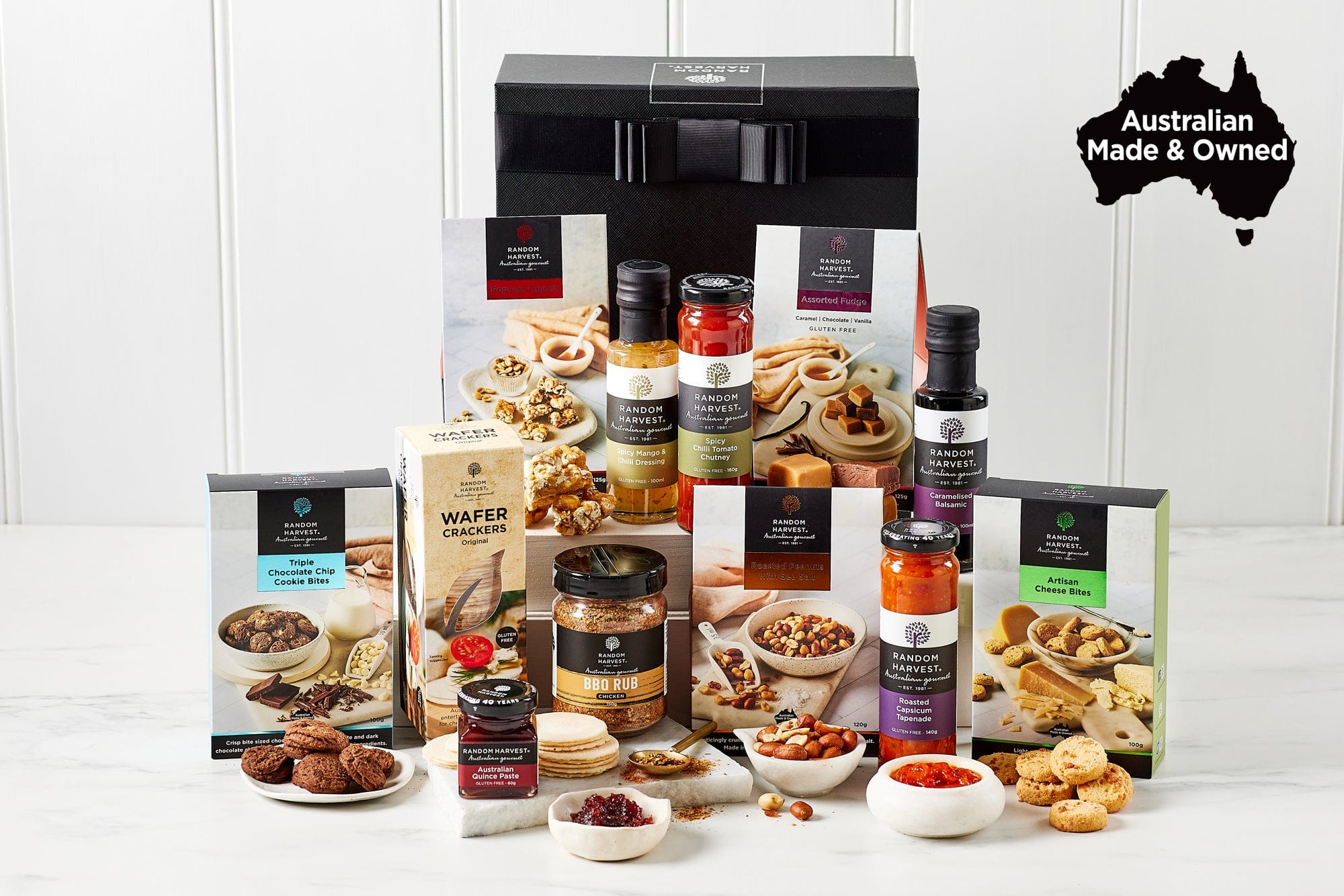 Gift the gift of Australian made gourmet with our Gourmet Foodie Hamper. Take them on a journey of Australian made flavour, with the goodness of our world-class condiments and confectionery.
We've included the perfect selection of our best-selling treats with a range of savoury and sweet to make sure everyone's tastes are covered.

The perfect gifting idea as a Christmas gift hamper or even as a housewarming hamper, presented in our luxury wooden gift crate and finished with our premium satin ribbon, it's a gifting experience they'll remember from the moment our gourmet hamper arrives, to the first bite of our artisan gourmet range.
The gourmet gifting goodness inside our foodie gift basket includes:

Assorted Fudge 125g
Popcorn Crunch 125g
Triple Choc Chip Cookies 100g
Artisan Cheese Bites 100g
Roasted Peanuts with Sea Salt 120g

BBQ Chicken Rub150g
Caramelised Balsamic 100ml
Spicy Chilli Mango Dressing 100ml
Wafer Crackers Original 100g
Australian Quince Paste 60g
Roasted Capsicum Tapenade 140g
Spicy Chilli Tomato Chutney 160g
Hamper Box
Australian Quince paste 60g
Caramelised Balsamic 100ml
Spicy Tomato & Caramelised Onion Sauce 100ml
Garlic & Basil Extra Virgin Olive Oil 100ml
Spicy Mango & Chilli Dressing 100ml
Traditional Dukkah 90g
Australian BBQ Rub - Chicken 150g
Tiny Rocks Rock Candy 190g
Roasted Capsicum Tapenade 140g
Spicy Chilli Tomato Chutney 160g
Fireball Chilli Mustard 150g
Popcorn Crunch 125g
Free Personalised Gift Card
100% Australian Made & Owned
Included In This Hamper
Artisan Cheese Bites 100g
 Our delightful Artisan Cheese Bites are beautifully created to be crunchy with just the right amount of cheesy crumble. Perfect for grazing platters or enjoying with our Australian made condiments.

 

Assorted Fudge 125g


Traditionally handmade fudge. Featuring a rich creamy texture and a silky smooth finish. Gluten Free.




Caramelised Balsamic 100ml


Our signature caramelised balsamic. Sticky and rich and beautiful for dressings and drizzles. 100% Australian made. 100% Gluten Free.




Chicken BBQ Rub 150g
Our artisan blend of herbs, spices and seasoning takes chicken dishes to new levels of delicious.
Australian made & Gluten free.

Spicy Chilli & Mango Dressing 100ml
A delicious and versatile dressing that's exquisite on summer salads, and the perfect partner for seafood.
Australian made gourmet. Gluten free.

Spicy Chilli Tomato Chutney 160g
The perfect blend of fresh tomato chutney with a dash of chilli, this favourite is guaranteed to be a winner to top meats, pasta, pizza and more.
Australian made gourmet. Gluten free.

Popcorn Crunch 125g


Handmade crunch featuring popcorn & peanuts encased in a delicious toffee for a truly sweet treat.




Australian Quince Paste 60g


Made from the finest of Australian quince fruit, our Australian Quince Paste is the perfect platter partner and is 100% Gluten Free.




Roasted Capsicum Tapenade 140ml
The beautiful flavour is matched only by the stunning colour of this artisan tapenade, featuring the brilliance of the freshest red capsicum.
Australian made gourmet. Gluten free.

Roasted Peanuts With Sea Salt 120g
 Roasted to perfection with the perfect balance of flavour and crunch with just the right amount of sea salt seasoning. The ideal partner for wine, or as a grazing platter addition.

 

Triple Choc Chip Cookie Bites 100g
 Filled with exquisite choc chips, our Triple Choc Chip Cookies are the ultimate chocolate sweet treat for sweet lovers. 100% Australian made.

Original Wafer Crackers 100g
Crisp, light and created to hold toppings with perfection, without overwhelming flavour.
Australian made gourmet. Gluten free.

Luxury Keepsake Hamper Box
Our gorgeous gift hamper box is beautifully designed with a textured black finish, and a gorgeous satin ribbon detail.
Featuring a silver Random Harvest logo emboss.
Shipping
Fast shipping
We proudly offer same-day dispatch to get your order out the door and on its way as quickly as possible.
We offer Australia-wide delivery with free delivery for all orders over $150. Further information is available on our shipping page.
Order tracking
Tracking your order is as easy as can be. As we process your order we will update your shipping information.
You'll be updated as your order progresses and be able to track your order from our warehouse to your door.
Get in touch
If you have any issues or questions about any of our products, or you're needing a customised gift hamper created for your business or special event, then please don't hesitate to contact us via email, our contact form or on (02) 95 242 111