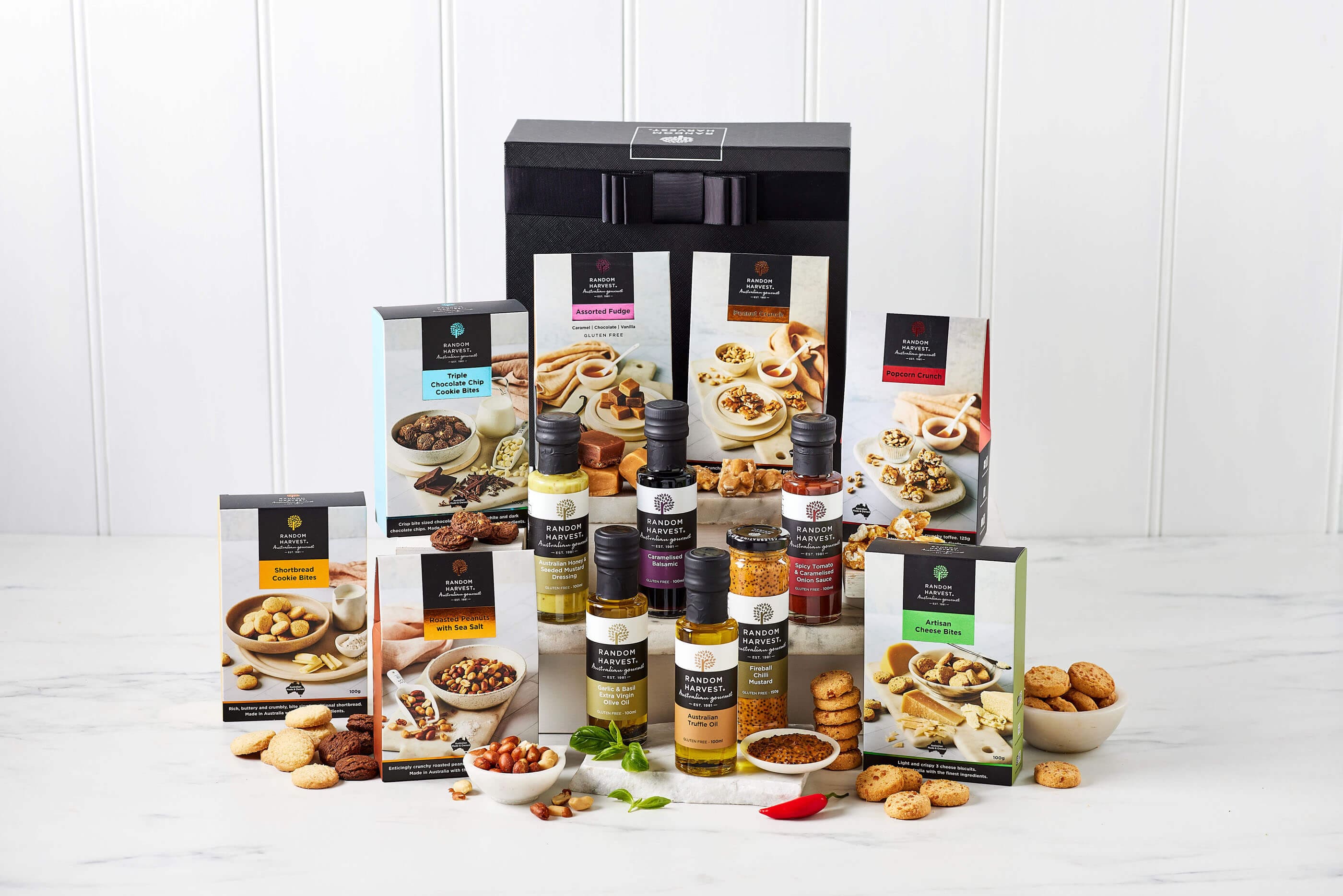 Gourmet Indulgence Father's Day Hamper
Description
Ingredients
Directions
More...
Every dad deserves the ultimate indulgence on her special day, and she's going to feel spoilt and extra special with her very own Father's Day Gourmet Indulgence Hamper, packed full of 100% Australian made goodness.

Beautifully presented in our luxury gift box, inside mum will find everything she needs to enjoy a flavour filled experience of joy. A Father's Day hamper that's truly to be remembered for quality and flavour, and beautiful Australian made luxury.
From our finest gourmet selection of sweet and savoury goodness, nlike other gift hamper companies everything inside our mother's day gift hampers is 100% Australian owned and artisan crafted to ensure the finest in quality with each and every product.
We don't do average here at Random Harvest, we don't do cheap imports, and we only partner with Australia's finest Australian-made brands, so when you choose our luxury wine hampers, you're choosing Australia's finest gifts for Father's Day.
The Gourmet Indulgence Fathers Day Hamper Includes:

Assorted Fudge 125g
Popcorn Crunch 125g
Peanut Crunch 125g
Triple Choc Chip Cookies 100g
Shortbread Cookies 100g
Roasted Peanuts with Sea Salt 125g

Artisan Cheese Bites 100g

Caramelised Balsamic 100ml
Fireball Chilli Mustard 150g
Garlic & Basil Olive Oil 100ml
Spicy Tomato & Caramelised Onion Sauce 100ml
Australian honey & Seeded Mustard Dressing 100ml
Truffle Oil 100ml
Hamper Box
Order online to be delivered to an address other than your own, or call our office on Ph: (02) 9524 2111
I Love You Rock Candy 190g
Australian Spiced Pear Paste 60g
Australian Quince Paste 60g
Assorted Fudge 125g
Popcorn Crunch 125g
Roasted Capsicum Tapenade 60g
Spicy Chilli Tomato Chutney 60g
Caramelised Balsamic 100ml
Wafer Crackers Original 100g
Pepper Tree Wines Venator Shiraz 2018 Hunter Valley Limited Release
Wine Hamper Information

Please note that in order to purchase a wine hamper through our online store, the delivery address must be different to that of the purchaser.
This is a test extra description
Free Personalised Gift Card
100% Australian Made & Owned
Shipping
Fast shipping
We proudly offer same-day dispatch to get your order out the door and on its way as quickly as possible.
We offer Australia-wide delivery with free delivery for all orders over $150. Further information is available on our shipping page.
Order tracking
Tracking your order is as easy as can be. As we process your order we will update your shipping information.
You'll be updated as your order progresses and be able to track your order from our warehouse to your door.
Get in touch
If you have any issues or questions about any of our products, or you're needing a customised gift hamper created for your business or special event, then please don't hesitate to contact us via email, our contact form or on (02) 95 242 111