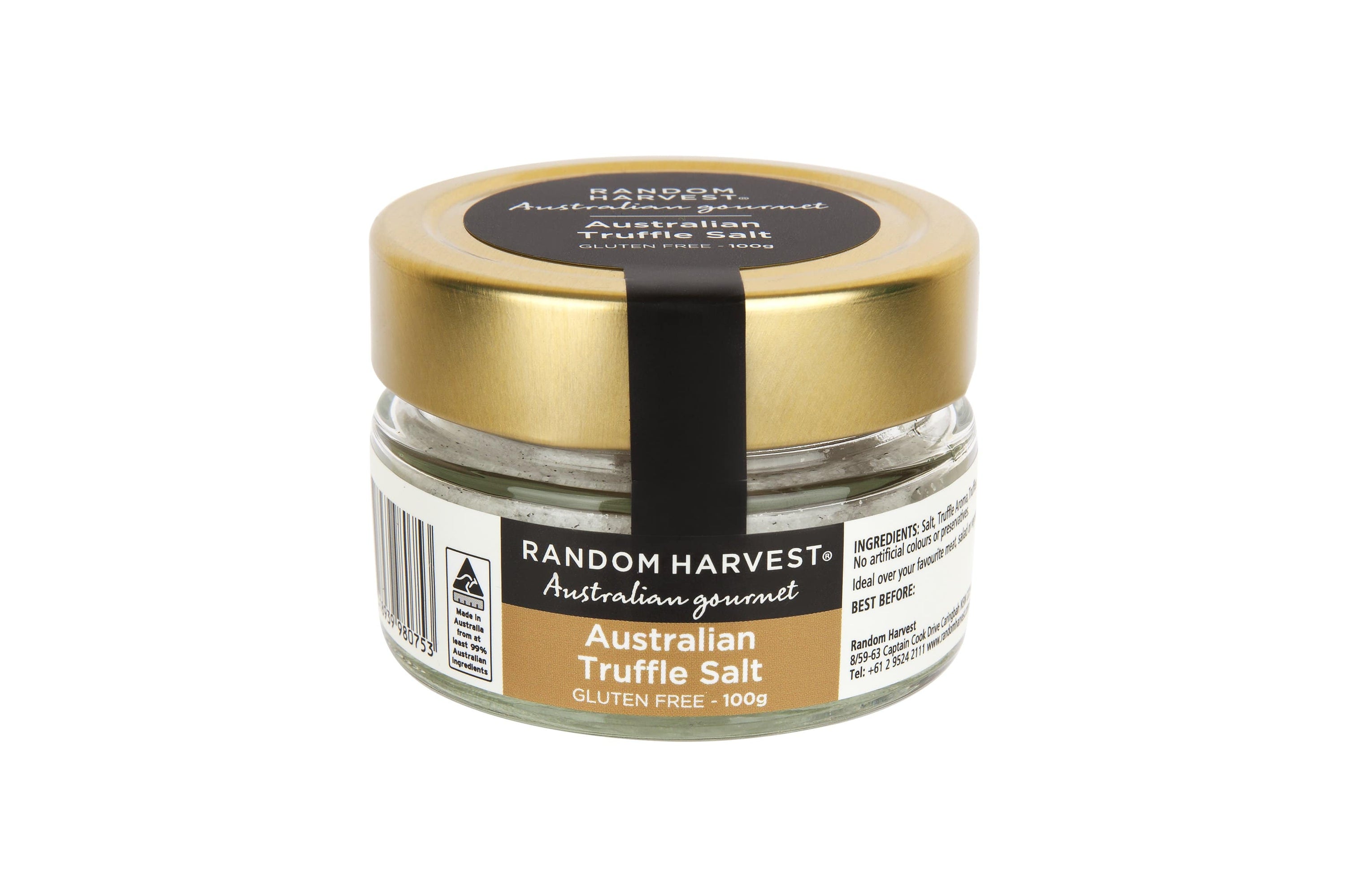 Australian Truffle Salt 100g
Description
Ingredients
Directions
More...
Truffle Salt Australia loves. A truly beautiful Australian product that features the earthiness of our beautiful country in a jar.
With lake salt from Lake Deborah, and the earthiness of real Australian truffles from Australia's finest truffle producers, our Australian Truffle Salt is a must have gourmet addition to any foodie's kitchen.
Truffle salt is a kitchen staple for anyone who appreciates beautiful flavour and this genuine Australian truffle salt can be used to season everything from your basic everyday meals to gourmet creations fit for the finest of guests.
A generous 100g size.
100% Australian Made
100% Gluten Free
Featuring real truffle pieces.
Salt
Truffle Aroma
Truffles
GLUTEN FREE & VEGAN FRIENDLY
Use to marinade meats or roasted vegetables.

Sprinkle over scrambled eggs, risotto, pasta or roasted potatoes.
Truffle salt that's the perfect addition to any foodie's kitchen.
Random Harvest Australian Truffle Salt is a perfectly balance of pure Australian lake salt and genuine Australian black truffle.
Truffle Salt is perfect for seasoning eggs made the way you love them, a wonderful addition to pesto, rissotto or even as a seasoning to your best-ever roast veggies.
When choosing the best truffle salt, be sure to choose 100% Australian truffle salt to ensure the best quality.
100% Australian Made & Owned
Shipping
Fast shipping
We proudly offer same-day dispatch to get your order out the door and on its way as quickly as possible.
We offer Australia-wide delivery with free delivery for all orders over $150. Further information is available on our shipping page.
Order tracking
Tracking your order is as easy as can be. As we process your order we will update your shipping information.
You'll be updated as your order progresses and be able to track your order from our warehouse to your door.
Get in touch
If you have any issues or questions about any of our products, or you're needing a customised gift hamper created for your business or special event, then please don't hesitate to contact us via email, our contact form or on (02) 95 242 111